Flyball is a fast growing sport for dogs of any age or size, having a good level of fitness and a love for retrieving tennis balls.
The sport is governed by the British Flyball Association under which competition in Starter Classes takes place from the age of 12 months, although dogs have to be at least 18 months old before being eligible to compete in a B.F.A. Sanctioned Tournament.
The competition event is a relay race, where each team consists of 6 dogs and their handlers with 2 of the team in reserve, plus a 'box loader' and as in our case a ball-boy. No more than 8 people from one team are allowed in the arena at one time. Two teams then race against each other, on parallel courses, with the first dog having to clear 4 hurdles, retrieve a tennis ball triggered from the Fly-ball box, before returning over the same 4 hurdles, Penalties are applied if the dog drops the ball and does not retrieve it. When the dog crosses the starting line, the next dog is released, although careful timing has to be considered to avoid penalties by the judges for crossing too soon. No two dogs should be on the course at the same time. Each dog must return its ball all the way across the start line before the next dog crosses. Ideal running is nose-to-nose at the start line. The first team to have all four dogs cross the finish line error free wins.
The first team to have its fourth dog finish wins the race. Heats consist of the best of 3 or 5 runs to decide the winner.
Below is a perfect Cross-over, but very difficult to achieve.
Meet The Fabulous Mr Bud crossing in to My Smudgelicious Darling!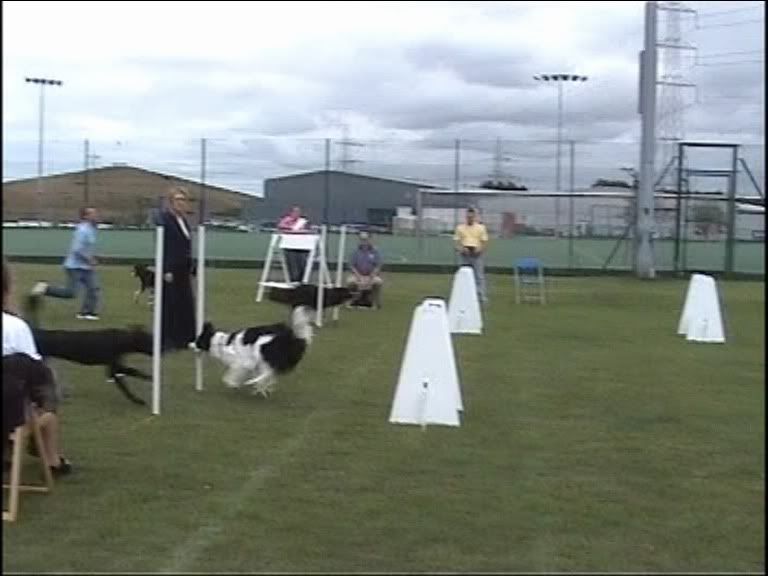 Training consists of working hard to build the stamina and confidence of both dog and handler.The key to a good cross-overs is getting to know the dogs well and training hard.